Maxine, My Inspiration
My dog training experience all started with my own dog, Maxine.
Maxine and I met at the Scituate Animal Shelter, Scituate MA in May of 1995. She was brought to the shelter by her neighbors, because her owner had abandoned her. It was also the same day I started volunteering at the shelter. Little did I know then she would become my dog.
Maxine had nine puppies two weeks later, and after all the puppies had been adopted, I officially adopted her.
Maxine's biggest issue was that she would drag me down the street when I would try to walk her. It was definitely an unpleasant experience and clearly I needed help. When it came to training, like most people, I didn't know where to start but I knew I wanted a well-behaved dog.
As a result of my success training with Maxine, I decided to attend Mt. Ida College, Newton, MA in which I received my Associates Degree in Animal Sciences with my primary focus on behavior and training.
In 1998 I founded Canine Etiquette and have been a private trainer ever since.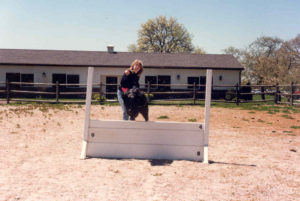 As a professional dog trainer and dog owner, I feel every dog should be trained. Training is the most important educational experience you can give your dog.
Sadly I lost Maxine in 2007. She was an exceptional dog that loved to learn. Being able to provide her with training gave us both the education we needed for her to become a well-behaved dog.
So you see I am not much different than you. My desire to train started with my love for my dog and wanting her to behave. It was my responsibility to find a way to accomplish that while having fun as we learned together.  Just Like You!