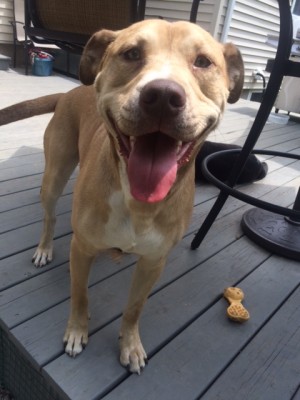 Monte, Pit Mix, Weymouth, MA
Monte came as a foster.  However, immediately upon his arrival he began bullying all the other dogs in the house. His new foster mother wasn't used to having such a pushy dog and because some fights broke out, she knew she needed help before anyone got hurt, so she contacted me.
Monte's history is unknown as he was picked up as a stray and to be honest it really doesn't matter because you have to deal with the present.    So that is what we did through obedience training and socialization.
Today I am happy to report he is a more confident dog that doesn't feel the need to push his weight around anymore because he has the self-esteem he was lacking.  And for the dog that was "iffy" with other dogs, well you'd never know it now.  He acts like a true gentleman with his house mates and when out in public he is friendly meeting other dogs that want to say hi.
Nice team effort.  He truly is a special and lucky boy!