Please feel free to give us a call if you'd like to speak with some of our past clients.
We have many who would be happy to talk with you about their experience!
---
Video Testimonial: Jenn from Halifax, MA, talks about her two Boxers, Daisy 6 yrs. and Diesel 2 1⁄2 yrs. Daisy and Diesel initially didn't start off on the best of terms but after training they are the best of friends living together in peace.
---
Video Testimonial: Andrew from Cohasset, MA talks about Tayto, his 11 month old Labradoodle. Andrew and his wife originally contacted me out of concern of Tayto's jumping. Since their home is frequented by very young children, it was a priority to stop the jumping to avoid Tayto from unintentionally hurting anyone.
---
Video Testimonial: Alison from Halifax, MA, the owner of Harley her 6 yr. old English Bulldog, talks about the issues she and her husband were facing with Harley and how much more comfortable and in control Harley is now after training.
---
This is a testimonial we received from Jessica, owner of Moose an 11 month old Yellow Labrador Retriever, Abington, MA.
Because my husband and I gre
w up with dogs, we wanted our daughter to have that same experience and decided a Lab would be a good family dog.
So we took our 8 month old daughter to see a litter of Yellow Labs that had recently been born. We naturally wanted to see how they interacted with her. We asked to see the most laid back puppy. Our daughter grabbed both of his ears, pulled him forward and kissed his nose and he didn't flinch. He was the one!
We brought him home when he was 8 weeks old and he was a great until he was 6 months old and then it was all downhill.
He no longer listened to us. He didn't come when he was called, and he would constantly escape out of the house at any opportunity. We would literally have to tackle him to get him. We were at our wits end, so I emailed a friend who is big into dogs and rescue asking what we should do with him. She directed us to Dawn.
Dawn explained what needed to be done at our evaluation and that he just needed to be trained. I'm quite sure I rolled my eyes not believing Moose could be trained. But that is what happened. Dawn trained us to train our dog.
Prior to training I couldn't push my daughter in her carriage on a walk with him because he was so unmanageable. Now we walk together all the time.
One of the biggest thrills this summer was taking him on vacation with us for a change. Previously we would kennel him, because taking him was just too impossible. He would be out of control making the whole experience miserable. Not anymore. This summer we even had him off leash only using voice commands to control him. He is such a joy to have around now.
Because of training, we now have a completely different dog! I really can't believe the progress we made with him. The changes are unbelievable.  We finally have the relationship with Moose that we wanted.
If you want to improve your dog's behavior while improving your relationship with them at the same time, I would highly recommend you contact Dawn immediately. I cannot put into words how grateful I am. The proof is in Moose.
Thank you so much Dawn!
________________________________________________________________________________________________________
This is a testimonial we received from Jan, owner of Magnum a Shepherd/Rottie Mix, Scituate, MA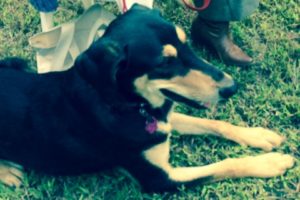 When I adopted my rescue dog Magnum, a Shepherd/Rotti mix, he was 14 months old. He was malnourished and afraid of everything, including looking directly at anyone.
After he was healthy I learned about Dawn from a person at my place of work, where I take Magnum for socialization. I called Dawn and she came to my home, which was less stressful for Magnum. He really enjoyed being with Dawn from the first meeting.
Magnum has made tremendous strides, especially in the last 6 months since training with Dawn. He is less apprehensive and tends to approach people and dogs easier. He still has fear of some men but is doing much better.
This is not my first rescue dog. I have had 6 before him and have found Dawn's training methods, which she adapts to each dog individually, to be the easiest to follow. More importantly, she is always just an e-mail or phone call away for any problems that come up. We couldn't have come as far as we have without Dawn's encouragement and guidance. I have recommended Dawn to many people and will continue to do so.
Thank you Dawn!
---
This testimonial we received from Megan, owner of Cookie a Shepherd/Boxer Mix and Jersey a Yellow Lab, Whitman, MA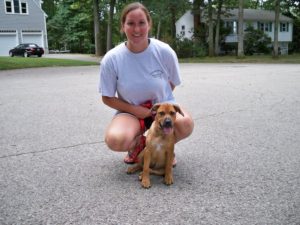 When I was growing up we never had a dog, only cats. It wasn't until I was in my mid-twenties that I realized how much I liked dogs. So, I decided that when I owned my own home I would adopt a dog, which is exactly what I did.
Finding Cookie wasn't easy because I kept getting turned down at shelters because of my lack of dog experience. After searching for quite some time, I finally found a rescue down South willing to let me adopt one of their puppies.
The first few weeks with Cookie were crazy. Not only were my arms a mess from her biting me but she was also going the bathroom in the house and pulled on the leash during walks.
I contacted Dawn at the recommendation of friends who recently had Dawn train their two Boxers. Because they were so pleased with the results and training with Dawn, they knew I would benefit from her help as well.
Dawn provided the one-on-one training that made it so easy for a first time dog owner like me. Because of Dawn's guidance I was able to teach Cookie the things she needed to learn to become the good dog she is today.
Shortly after I finished training with Dawn, I adopted a second puppy named Jersey. Yes, the once inexperienced dog person now has two dogs and loving it.
Dawn and I still to keep in touch. She loves my girls and they love her. She has fully supported me, Cookie and Jersey in anything that has come up along the way. I don't think you would get that kind of service and dedication anywhere else.
Thank you Dawn!
---